In the southeastern part of Rajasthan, there's a place called Chittorgarh. It has really old buildings, lots of stories, and a rich history of kings and queens. Long ago, there were big battles, like the one with Allah-ud-din-Khilji. This quiet old town has stories everywhere you look. Have you seen all the cool places in Chittorgarh? If not, you should go and see them!
Best Places To Visit In Chittorgarh
1. Chittorgarh Fort:
In Chittorgarh, an important place to visit is the Chittorgarh Fort. This old fort is special for the town in Rajasthan. It's on a hill and looks after the city. Lots of things to do in Chittorgarh are in the fort. The Chittorgarh Fort is a really big building from a long time ago, around the 7th century. It's as big as about 700 acres.
Cost: Indians: ₹10, Foreigners: ₹100
Timings: Monday to Sunday, 9:30 AM to 6:30 PM
Location: Chittor Fort Road, Chittorgarh, Rajasthan 312001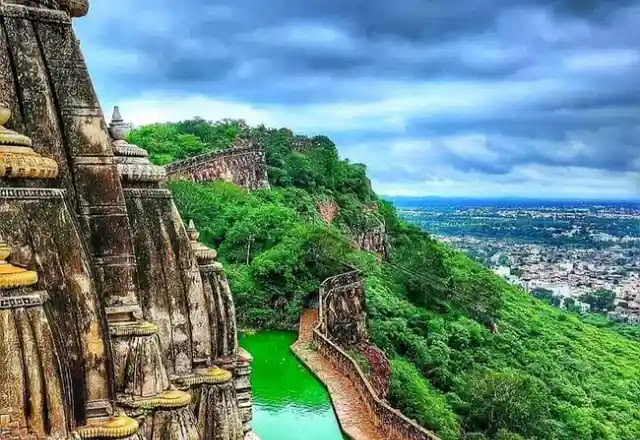 2. Tower Of Fame (Kirti Stambh): The Kirti Stambha is one of Chittorgarh's most beautiful tourist spots. This tower from the 12th century is a memorial to Adinathji, the first Jain Teerthankar. It is part of the huge Chittorgarh Fort. It is covered with pictures of naked Digambar people and shows everything about their culture and beliefs. The tower has seven floors, and a steep, narrow staircase goes to the top, where you can see all of Chittorgarh. This is one of the best places to visit in Chittorgarh.
Timings: 9:30 am to 6:30 pm.
Location: Chittorgarh Fort Village, Chittorgarh, Rajasthan 312001.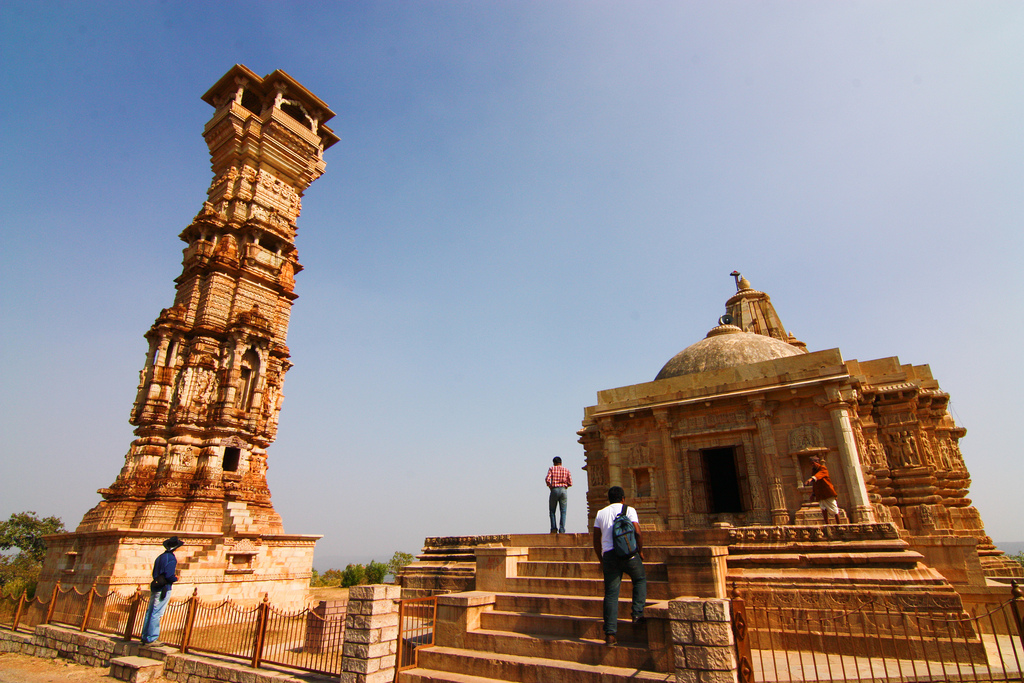 3. Rana Kumbha Palace:
Rana Kumbha Palace is one of the most interesting places to visit in Chittorgarh Fort. The massive proportions of the ruined edifice of the palace reveal what an imposing structure it was in the height of its glory. Rana Kumbha Palace is the largest monument in the Chittorgarh Fort and has a grand history attached to it. It has been the residence of people like Bappa Rawal, Maharana Kumbha, Rani Padmini, and Princess Meera Bai among others.
Timings: 9:30 am to 6:30 pm.
Price: You only need to pay the entry price for the fort.
Location: Chittorgarh Fort Village, Chittorgarh, Rajasthan 312001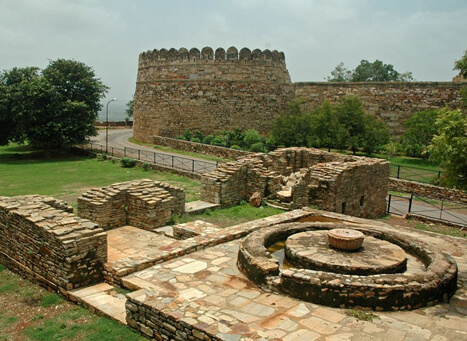 4. Vijay Stambha:
The Vijay Stambha is a really tall and strong tower inside Chittorgarh Fort. It was built in 1440 AD by Maharana Kumbha to celebrate his win over Mohamed Khilji. This tower has 9 floors and is decorated with statues of Hindu gods. It shows how things were in the past. You can climb up steep steps to the top and see the whole town from there. It's really beautiful and one of the top spots to visit in Chittorgarh.
Timings: 9:30 am to 6:30 pm.
Location: Chittorgarh Fort Village, Chittorgarh, Rajasthan 312001.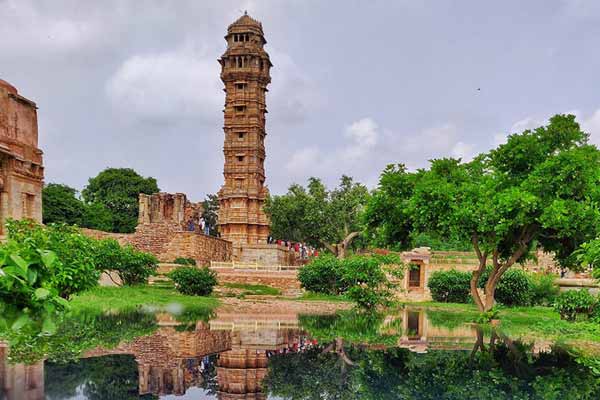 5. Padmani Palace:
In Chittorgarh Fort, there's a special place called Padmani Palace. It has a cool story connected to it, so it's a must-see spot. Long ago, there was a battle between Ala-ud-din Khilji and Rana Ratan Singh because of this palace. Padmini Palace is where Ala-ud-din Khilji saw a reflection of Padmini in a mirror, and it's really famous. It's one of the top places to visit in Chittorgarh.
Allured by her beauty, Ala-ud-din Khilji fought a fierce battle with Rana Ratan Singh, husband of Rani Padmini. A visit to this palace gives one an insight not only into the history of Chittorgarh but also into human passions. The palace overlooks a lovely pool, and the views from inside are delightful.
Timings: 9:30 am to 6:30 pm.
Location: Chittorgarh Fort Village, Chittorgarh, Rajasthan 312001.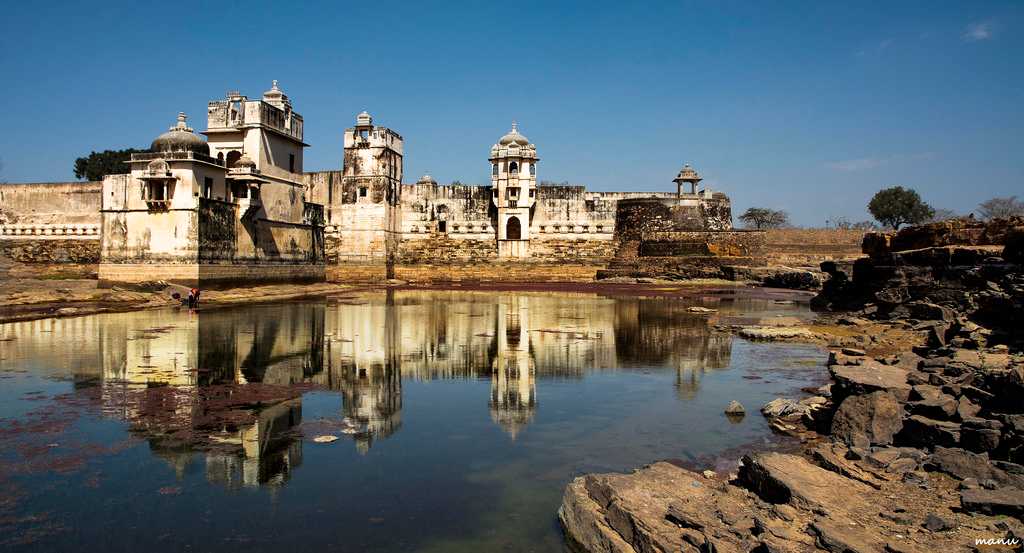 6. Meera Temple:
The Meera Temple is one of the most beautiful tourist attractions in Chittorgarh, reflecting as it does the beautiful history of devotion played out in the story of the Rajputani princess, Meera, and her Lord Krishna.
The temple, with its Indo-Aryan architecture, is located inside Chittorgarh Fort and has several intricately carved idols that adorn its sanctum sanctorum. A small temple dedicated to lord Krishna can also be found inside. The history and culture of the age can be understood comprehensively when you pay a visit to this temple and is one of the best places to visit in Chittorgarh.
Timings: 9:30 am to 6:30 pm
Price: You only need to pay the entry price for the fort
Location: Chittorgarh Fort Village, Chittorgarh, Rajasthan 312001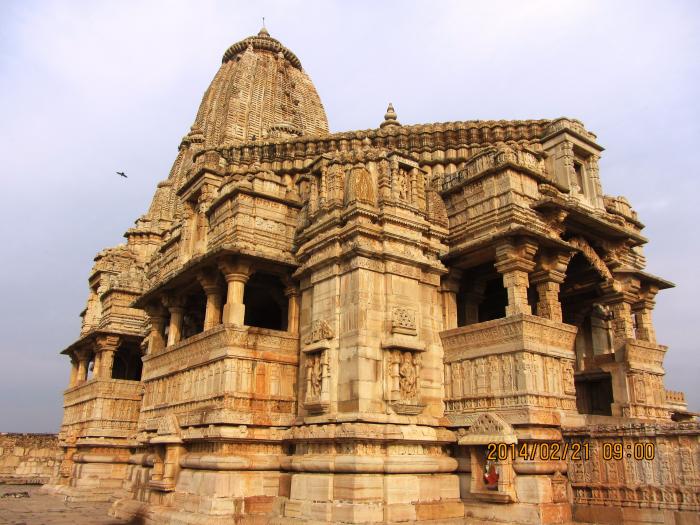 7. Gaumukh Reservoir:
The Gaumukh Reservoir, one of the most significant water tanks in the Chittorgarh Fort, is so revered by the Hindus that visiting it is regarded as a must as part of a pilgrimage to all the other holy Hindu sites.
Water from a natural spring constantly flows from the "cow mouth" into the reservoir. A shiva-linga and an icon of Goddess Lakshmi adorn the base of the Gaumukh where the waterfalls. A popular activity indulged in by visitors to the reservoir is feeding the fish that dwell there. The Samadheswar Temple is located close at hand and provides a lovely complement to the holy reservoir.
Timings: 9:30 am to 6:30 pm
Price: You only need to pay the entry price for the fort
Location: Chittorgarh Fort Village, Chittorgarh, Rajasthan 312001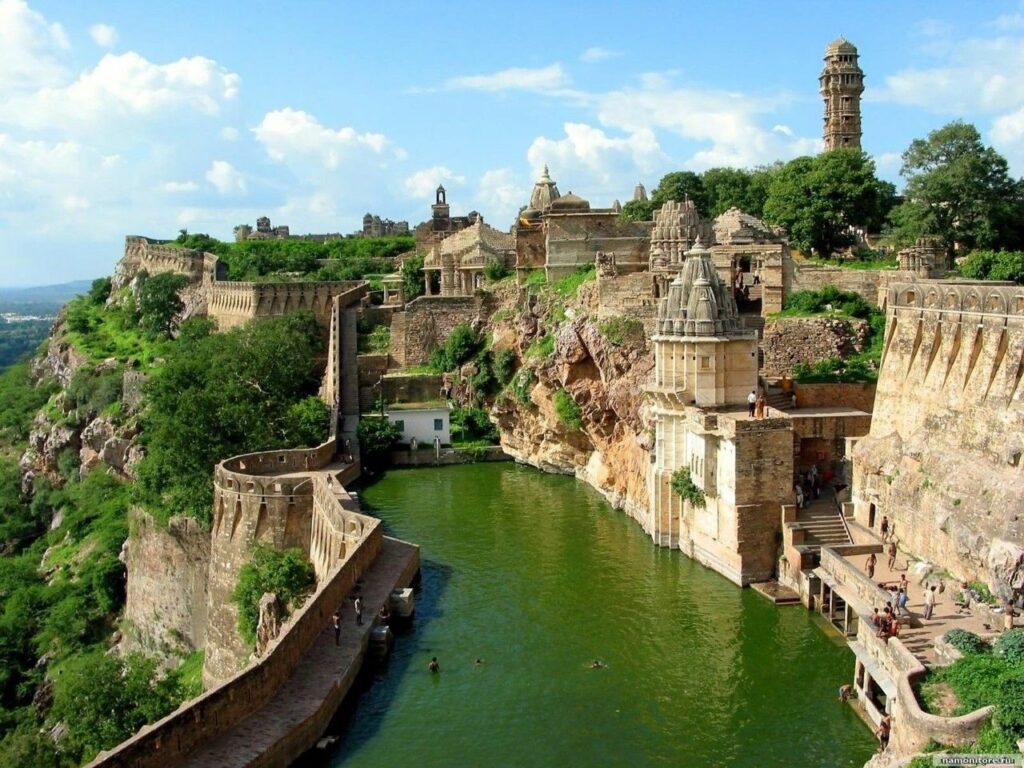 8. Sitamata Wildlife Sanctuary:
Sitamata Wildlife Sanctuary is one of the loveliest places to visit in Chittorgarh. This wildlife sanctuary is a place where nature works its wonders in the form of teak, bamboo, tendu, amla, and Salar forests, the Jakham and Karmoi rivers, and the countless birds and animals that inhabit it.
The forest takes its name from the legend of Sita attached to it. Sita, the wife of Lord Ram of Ayodhya, is said to have inhabited the ashram of Saint Valmiki in this forest during her separation from Lord Ram. Animals like the flying squirrel, spotted deer, wild bear, four-horned antelope, nilgai, jungle cat, jackal, hyena, caracal wild boar, leopards, and wild pangolin can be spotted here.
Timings: 8 am to 5 pm
Price: Rs 10 for Indian adults; Rs 2 for Indian students; Rs 80 for foreigners
Location: Pratapgarh, Rajasthan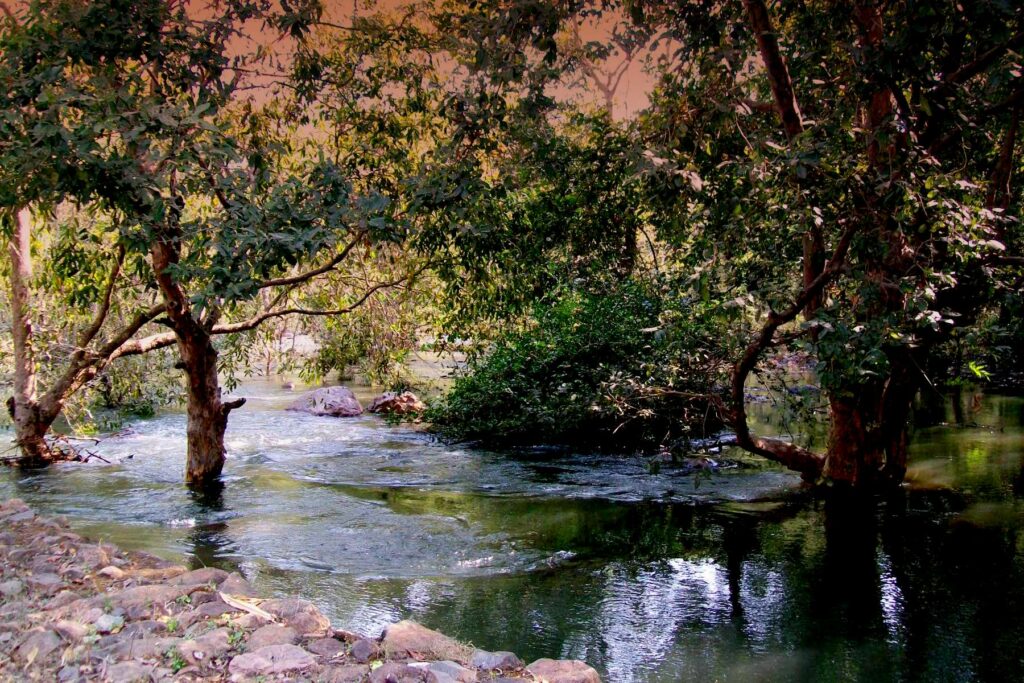 3 Days Itinerary
Day 1: Arrival and Chittorgarh Fort Exploration
Morning: Early in the morning, arrive at Chittorgarh, and settle into your lodging.
Afternoon: Visit the beautiful Chittorgarh Fort to kick off your journey. Spend the day taking in all of its sights, such as Rana Kumbha's Palace, Kirti Stambh, and Vijay Stambh.
Evening: Enjoy the sunset from the fort's grounds while admiring the broad panorama of the surroundings.
Dinner: Visit a nearby restaurant to sample some traditional Rajasthani food.
Day 2: Fort Attractions and Cultural Immersion
Morning: Begin your day with a visit to Padmini's Palace, learning about the historical stories associated with Queen Padmini.
Late Morning: Explore Meera Temple and Kalika Mata Temple, admiring the architectural details and religious significance.
Afternoon: Head to Fateh Prakash Palace, which houses the Government Museum. Immerse yourself in the history and culture of Chittorgarh through the displayed artifacts.
Evening: Take a leisurely stroll through the local markets to shop for handicrafts, textiles, and souvenirs.
Dinner: Try another local eatery for an authentic taste of Rajasthan.
Day 3: Nearby Attractions and Departure
Morning: Depart for the nearby Sanwariaji Temple, about 40 kilometers away. Explore this grand temple dedicated to Lord Krishna and take in the spiritual ambiance.
Late Morning: If time permits, make a visit to Bassi Wildlife Sanctuary, around 25 kilometers from Chittorgarh, to enjoy the serene natural surroundings.
Afternoon: Return to Chittorgarh and have lunch. Late Afternoon: Spend some time at the Gaumukh Reservoir within the fort complex, appreciating the architectural and historical significance.
Evening: As your 3-day journey in Chittorgarh comes to an end, you can relax or take a final stroll through the town.
Departure: Check out from your accommodation and head to your onward destination.
Please note that this itinerary is just a suggestion, and you can adjust it based on your interests and the specific timings of attractions. Also, the availability of certain attractions and their opening hours might vary, so it's a good idea to double-check before your visit.
What To Carry?
When visiting Chittorgarh or any destination, it's important to pack wisely to ensure a comfortable and enjoyable trip. Here's a list of items to consider carrying:
Clothing: Pack light, breathable clothes and modest attire for religious sites. Include a scarf or shawl for temples.
Footwear: Comfortable walking shoes and flip-flops for easy exploration.
Essentials: ID, travel itinerary, medications, personal hygiene items, sunscreen, hand sanitizer, and insect repellent.
Electronics: Phone, charger, camera, power bank, and adapters if needed.
Travel Gear: Wallet, local currency, small backpack, and travel guidebook.
Hydration and Snacks: Reusable water bottles and snacks for energy.
Weather Preparedness: Rain poncho or travel umbrella, depending on the weather forecast.
Respect Local Customs: Dress modestly, especially at religious sites, and carry a plastic bag for wet or dirty items.
Best Time To Visit
The best time to visit Chittorgarh is during the winter months, from October to March. This period offers more pleasant weather compared to the scorching heat of the summer and the monsoon rains.
What You Can Expect?
Chittorgarh is home to stunning temples and magnificent forts. The fort is located on a huge hill, from which you can see the city. You may pick up some knowledge about the past and the way people used to live. Delicious traditional Rajasthani cuisine and exquisite handicrafts will be available. The locals are kind, but you should pack for sudden weather changes. Sometimes there are amazing festivals and beautiful places in the area. Chittorgarh is an exciting blend of history and the present!