Chittorgarh, a historic city in Rajasthan, India, is not only renowned for its magnificent fort and fascinating tales but also for its rich and diverse culinary landscape. For food enthusiasts visiting this city, the experience is incomplete without delving into the local flavors and specialties. This guide takes you on a Gastronomic journey through some of Chittorgarh's top restaurants, especially for those who savor vegetarian cuisine. From traditional dishes to modern fusion, these eateries offer an array of delightful experiences.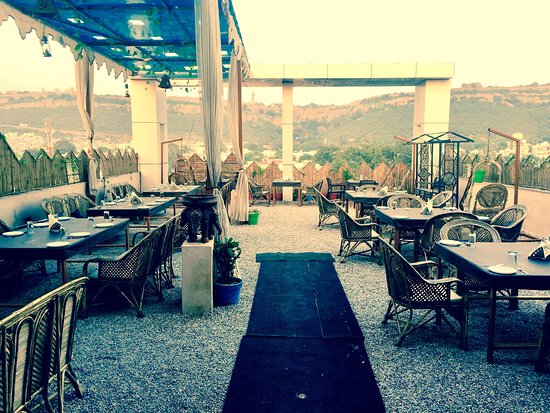 Aashirvaad Restaurant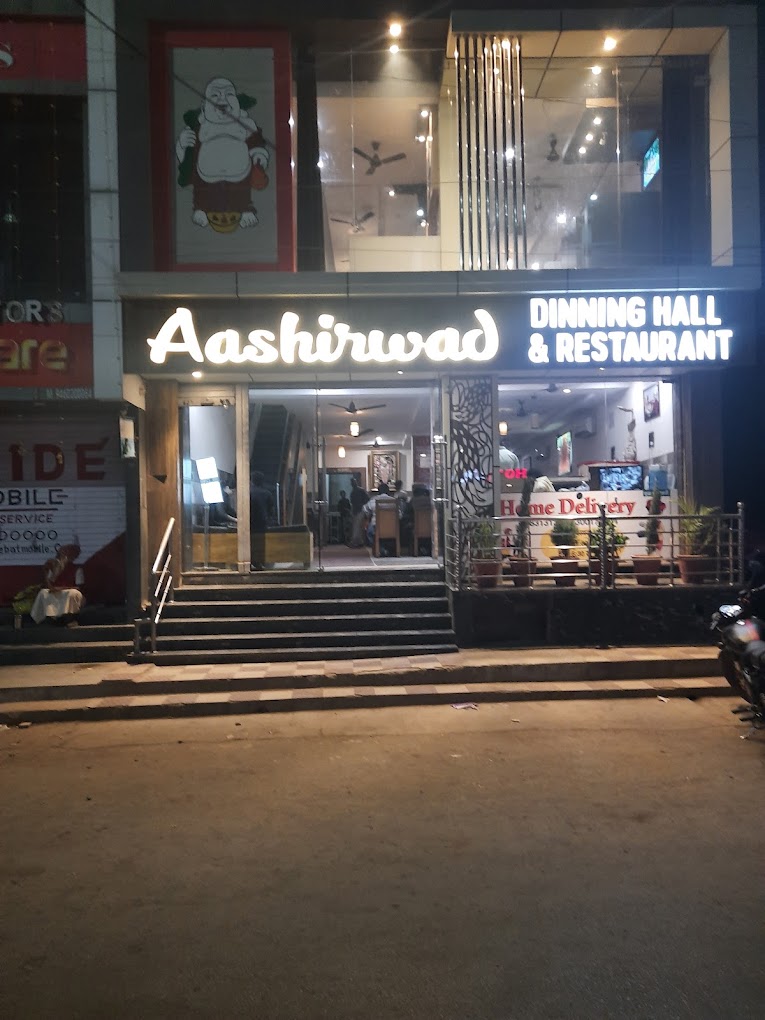 A beacon for vegetarian food lovers, Aashirvaad is synonymous with authentic flavors and quality dining. This restaurant is famed for its Rajasthani Thali, a platter filled with a variety of traditional dishes and more. The ambiance here is cozy, and the service is exemplary, making it a perfect spot for families and groups who wish to immerse themselves in local flavors.
Location: 10, Road, opposite HDFC Bank, Senthi, Bapu Nagar, Chittorgarh
Timing : 11:30 am–3:30 pm, 6:30–10:30 pm
Skydeck Restaurant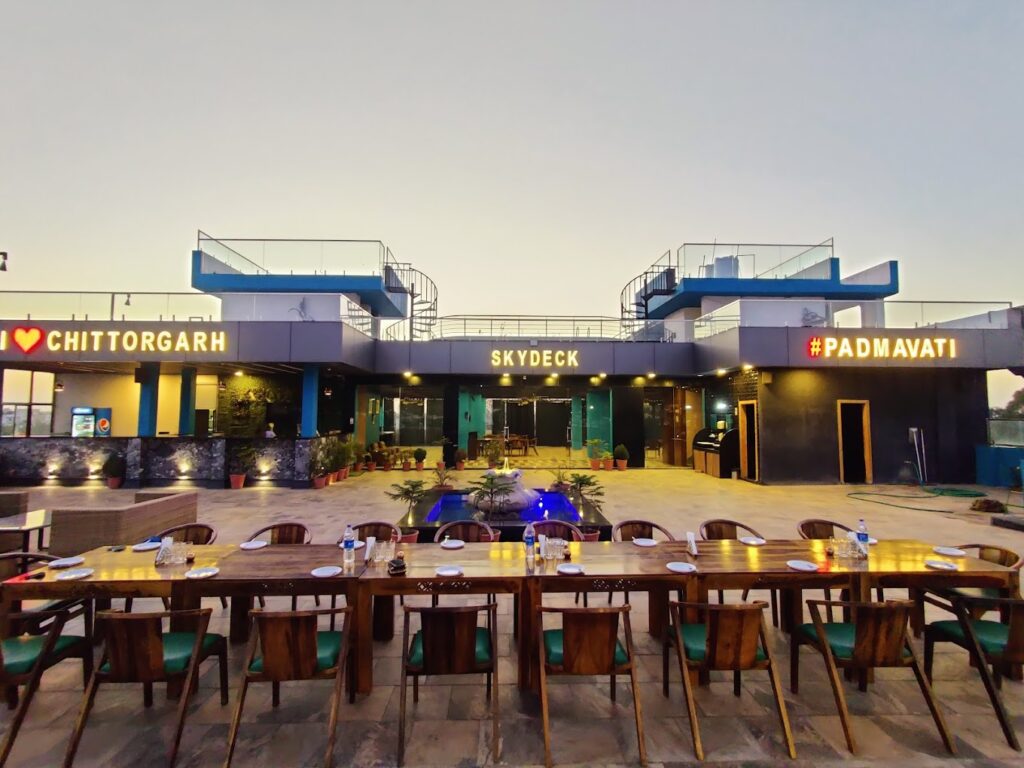 If you're looking for a dining experience with a view, Skydeck is your go-to place. Situated at a vantage point, this restaurant offers a panoramic view of Chittorgarh Fort, enhancing your dining experience. The menu here is a mix of Indian and international vegetarian dishes. The pasta, wood-fired pizzas, and local Rajasthani cuisine are must-tries. Dining under the stars at Skydeck makes for a memorable evening.
Location : Sector1, Gandhi Nagar, Chittorgarh
Alfresco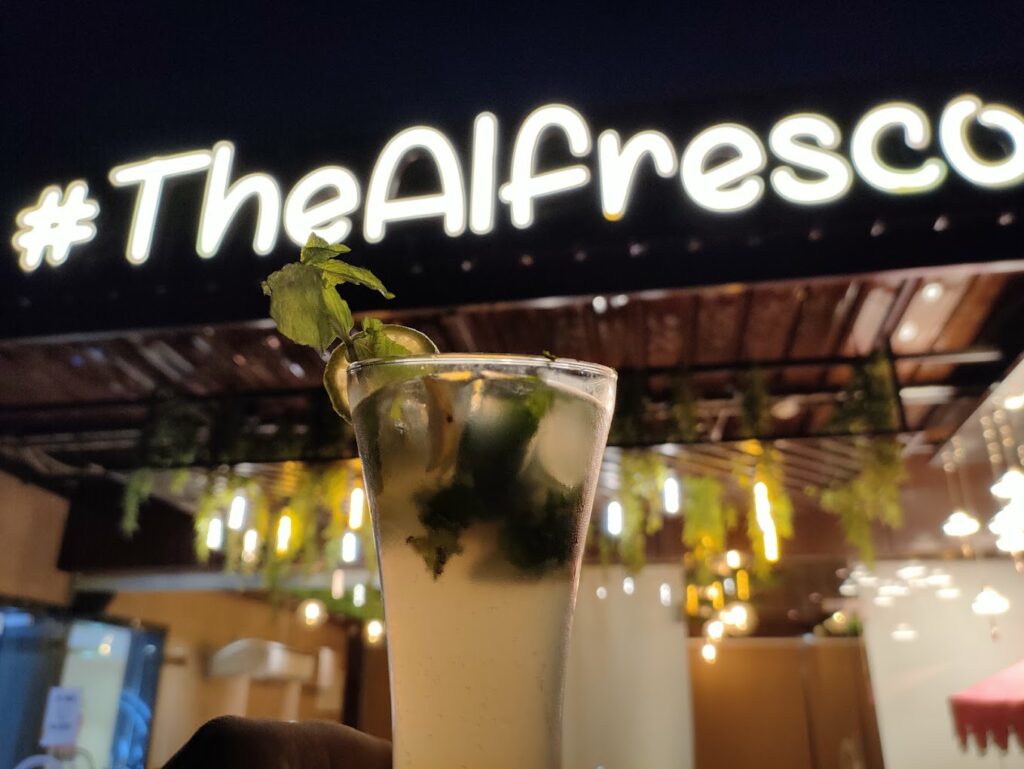 Alfresco stands out for its unique approach to vegetarian cuisine. This restaurant takes pride in its innovative fusion dishes that blend traditional flavors with a contemporary twist. The ambiance is chic and modern, making it a favorite among younger crowds and tourists seeking a break from conventional Indian fare. Don't miss out on their signature dishes like the Paneer Tikka Pizza or the Quinoa Biryani.
Location : Hotel The Grand Chittor, near Gangaur Garden, Chittorgarh
Timing : 7:30 am–10:30 pm
Aravali Hill Resort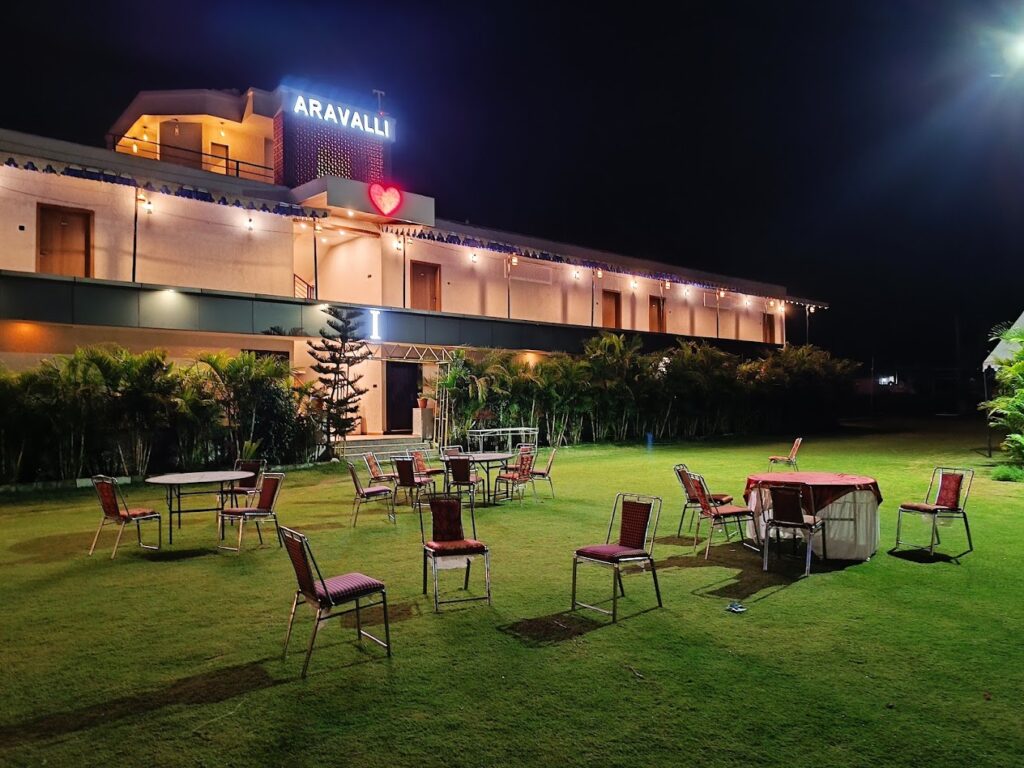 Tucked away amidst the serene backdrop of the Aravali hills, this resort houses a fantastic restaurant that is a haven for vegetarian food lovers. The chefs here are adept at crafting dishes that are both traditional and innovative. The ambiance is tranquil, ideal for a relaxed meal after exploring the city. Their Rajasthani platter is a comprehensive way to taste the local cuisine.
Location : Udaipur- Kota Highway, Circle, behind Fort, Semalpura, Chittorgarh,
Chandrahaas Restaurant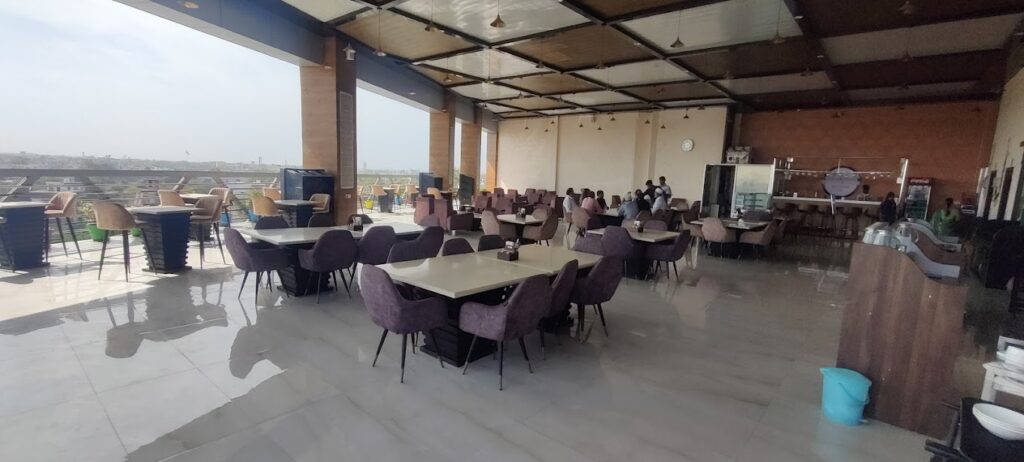 For a taste of royalty, head to Chandrahaas. This restaurant prides itself on its majestic setting and regal decor, reflecting the grandeur of Rajasthan's royal past. The vegetarian menu is extensive, offering an array of dishes from different parts of India. Their Rajasthani Thali is a celebration of local flavors, and the service here is as impeccable as the food.
Location : Bus Stand, 4th Floor, Maharani Padmini Mall, near Pannadhay, Gandhi Nagar
TIming : 11 am–11 pm
Imagica Resort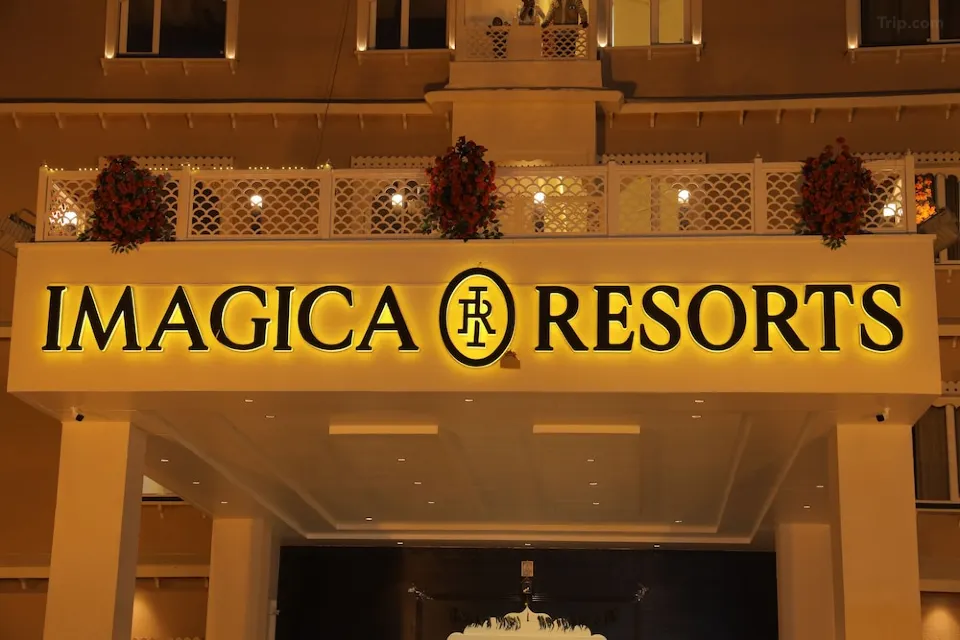 Within the realms of Imagica Resort lies a culinary treasure that caters to vegetarian palates with utmost care. The restaurant in this resort offers a buffet with a wide variety of choices, ranging from salads and starters to main courses and desserts. The food here is prepared with fresh ingredients, ensuring a delightful dining experience. The ambiance, surrounded by the resort's lush landscapes, adds to the charm.
Location : Rithola, Udaipur Rd, Chittorgarh
Rajasi Resort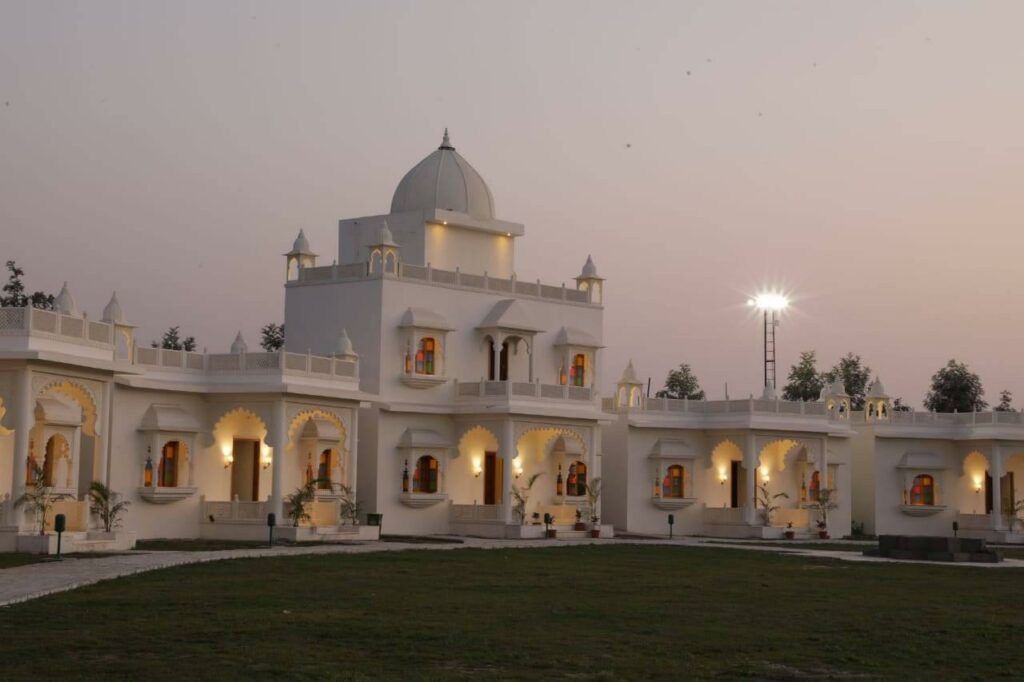 Rajasi Resort's restaurant is a testament to the rich culinary heritage of Rajasthan. The chefs here specialize in creating dishes that are authentic and flavorful. The restaurant's decor, inspired by Rajasthani culture, complements the dining experience. The Ghevar, a local sweet, is a must-try here. Their commitment to maintaining the authenticity of local flavors makes this a top choice for vegetarians.
Location : Semalpura, NH 27, Dhadhan
Timing : 7 am–11 pm
Meera Restaurant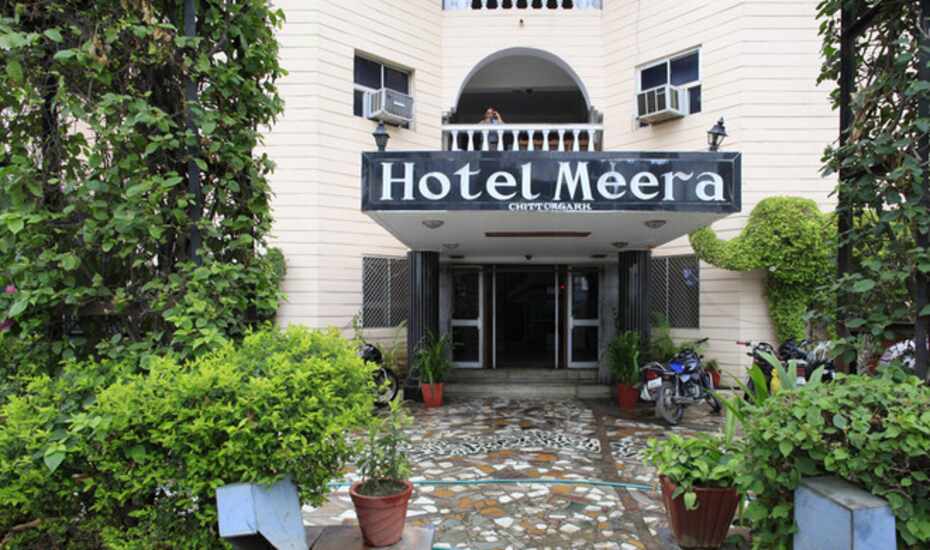 Named after the revered princess and saint, Meera, this restaurant offers a spiritual calmness alongside its delicious food. It's a place where simplicity and flavor go hand in hand. The vegetarian dishes here are prepared with care, and the Daal Baati Churma is particularly noteworthy. The staff's hospitality makes every diner feel special, adding to the overall experience.
Location : Railway Station, Chittoor, Railway Colony, Chittorgarh
Conclusion
Chittorgarh is not just a city of historic significance but also a destination for culinary explorers. Each of these restaurants offers something unique, whether it's the ambiance, the view, or the innovative approach to vegetarian cuisine. A trip to Chittorgarh is indeed incomplete without indulging in the delightful vegetarian fare offered by these culinary gems. As you plan your visit, make sure to add these eateries to your itinerary to experience the true essence of Rajasthani hospitality and cuisine.